Many victims of (sex) demons have had their deliverance and recovery.
See my clients' testimony for yourself.
I would like to give a testimony of what God has done for me through the ministry of Apostle Anthony Langmartey. Last week I was going through very painful sorcery attacks I could not sleep in the night because the attacks were relentless. Someone was inserting something like a pin into my heart through the heart chakra. My 7 chakras had been opened through sin and attacks. Because the chakras were open sometimes I could hear demons entering my body. Apostle Anthony prayed for me and the attacks stopped. I am now able to sleep through the night. During the prayer, Apostle led me through the prayer to close my heart chakra. I was advised to read the book- How to close and seal your chakras. I followed the step-by-step guidance of how to close and seal the chakras and was able to close the other chakras. If you are out there and are undergoing attacks don't suffer in silence please, contact Apostle Anthony Langmartey for deliverance.
Olivia, UK
Olivia UK
United Kingdom
Thanks so much for exposing these demons. So many of us have been affected by these unclean spirits and we are unable to articulate exactly what we are going through, but you have exposed what many of us are going through. I am so grateful I came across these books, "How to Know You Have A Spiritual Spouse" and "Total Deliverance from Spirit Wives and Husbands". I know it was God that ordered my steps to this book I am so ever grateful, now I can put the ax to the root. Thank you and may God bless you.
Miss Tee, U.S.A
Miss Tee, U.S.A
U.S.A
This book, "Total Deliverance from Spirit Wives and Husbands" is a life-changer. This book helped me during one of the toughest times in my life. I recommend it to anyone facing mental or spiritual anguish or strife! God is Amazing!
Keshawn Davis-Burrell, U.S.A
Keshawn Davis-Burrell
U.S.A
Total Deliverance from Spirit Wives and Husbands book was very informational and has prepared me for a path to true deliverance. I like the prayer points provided too. The world needs to be having more conversations about these spiritual realities.
Dristig Expression, U.S.A
Dristig Expression
U.S.A
Total Deliverance from Spirit Wives and Husbands book has hit the nail on the head with my problem. I am glad that I was able to identify and given a name so I can deal with my problem properly.
Eno Maxwell, U.S.A
Eno Maxwell
U.S.A
It was an interesting approach. It works fairly well for keeping demons away from your life. I can't dispense with him permanently but have gotten relief. If anyone thinks this is imaginary, they haven't experienced it.
Ruby G., U.S.A
Ruby G.
U.S.A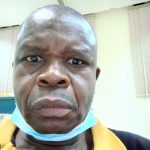 I hereby testify of the goodness of Yahveh for delivering and healing me through His anointed Apostle Anthony Langmartey.
Before the deliverance and healing, I had suffered a lot from a spirit wife having sex with me in the dreams, the spirit wife masquerading as people I know including my wife in order to have sex with me in the dreams.
My wife and I had suffered financial constraints, business failures, lack of affection for each other, difficulties in having children, my wife had so many miscarriages, failure to have male children, etc.
I had recurring sicknesses and diseases that could affect any part of my body like pimples, sores, swollen lymph nodes, swollen eyelids, swollen gums, etc.
Upon encountering Apostle Anthony and going through deliverance prayers for one week and counting, I have been delivered from the spirit wife and the demon of the night. I no longer have sexual dreams and I am healed from recurring sicknesses and diseases that happened at least twice a month. This week I am healed from my swollen right eyelid after praying with Apostle Anthony Langmartey. The swelling vanished in just two days. Praise God.
I thank the Lord Yahveh for my deliverance and healing that will remain permanent in Yahshua's name. I cover my deliverance and healing with the blood of Yahshua.
More testimonies will be coming as we continue to pray with the true minister of Yahveh.
Peter Opoki, Uganda
Peter Opoki
Uganda
Neo Stanley
Melbourne, Australia