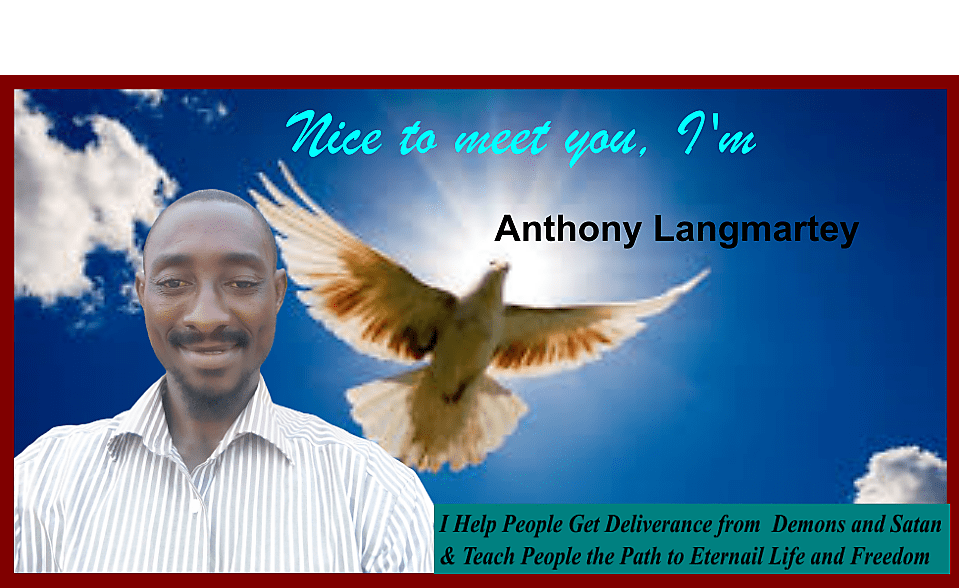 Apostle Anthony Langmartey is the founder and General Overseer of the assembly called Mount Olivet Messianic Judaism LBG. He is also the founder of the website thespiritandtruth.com. He is an author, counselor, deliverance minister, and public speaker, and has over 12 years of pastoral experience in the ministry.
Widely known for his work in resolving personal and spiritual conflicts, Apostle Anthony maintains brisk counseling, consulting, and speaking schedules.
His "Life Transformation Ministry" has led thousands to freedom in Yahshua the Messiah [Jesus Christ]. Apostle Anthony conducts seminars on leadership, wealth, marriage, family, biblical prophesies, and spiritual identity.
Why Establish a Website?
In my line of the job as a watchman and a shepherd of God in his ministry, I have discovered that many believers and churches lack the spirit of truth, the knowledge of God, and many spiritual and physical solutions to their problems and struggles.
Therefore it just touched my heart to help out thousands of people to receive the spirit of truth that reveals all truths and sets believers free.
If you are someone who desires strongly or persistently unadulterated truth, deeper knowledge of Yahveh (God), spiritual or physical liberation, and above all eternal life, then this website is made for you.
Make this website your spiritual classroom and eternal salvation shall be yours forever.
This website is built to help you find the truth in this falsehood world and provide you with spiritual solutions and guidelines for your problems and struggles.
On this website, you would find books revealing hidden secret truths about the kingdom and the knowledge of God as well as solutions and guidelines to some spiritual and physical problems.
This website offers you the opportunity to ask questions, order books, book a seat for a deliverance prayer service or consultation and receive a wealth of information about the truths outlined in the Scripture of Truth (The Bible).
I believe that the Scripture of Truth has the answers to the question of life, and I am willing to help sincere seekers find the answers, freedom, and truths for which they are looking. May Yahveh (God) bless you as you search for His truth, knowledge, insight, and wisdom!
My Story and Personal Experience
Even as a believer and a pastor, I suffered and struggled with a succubi spirit. Bear in mind that, "We wrestle not against blood and flesh but we wrestle against principalities, powers, the rulers of the darkness of this world, spiritual wickedness in high places" (Ephesians 6:12). This demonic spirit has been sabotaging my life for twenty (20) years. During that frustrating period, I was a bachelor, not knowing it was the activity of the succubus spirit. Because of her jealousy, she didn't want me to marry any woman. It took me so many years for me to realize that there is a succubus spirit in my life as my spirit wife. I did not know who to turn to, to be set free.
I had lived with this demonic spirit for twenty years. I did not know where the door came open, she just always seemed to be there. I remember being a child and sensing unclean things in my life.
Lust had been with me since I was very young. When I got saved, those things didn't automatically leave, even though I tried very hard to fill my life with good and godly things. Nothing I tried worked. Even as a very committed believer, I still suffered from nighttime visitations from this demonic spirit wife. I was still addicted to the same things that had been a part of my life when I was young. And there was no one to turn to, no one that I felt would understand.
My colleague pastors made it seem as if willpower was all that was needed in order to live free, with an attitude of just don't do certain things or engage in certain behavior and you'll be fine, but that was not all there was to it. I needed deliverance, but the people I was surrounded with did not have the answers.
The fear of rejection and being judged by others in the congregation was too great. I felt there was no one I could trust at the time, I was a pastor.
With certainty, I can tell you that ministers fear rejection and judgment from their peers just like anyone else because they are standing in front of others as an example. There were things in my life that had opened doors to this succubi spirit gaining entrance and I felt bondage. Those open doors caused me to experience some tremendous disappointments and failures. I would not wish them on anyone.
Far too often, all that people hear is a message telling them all the things not to do. Honestly, most of them already know that. The problem is, they've got issues already and don't know who has the answers to set them free so that they can walk in righteousness and freedom. We cannot help anyone if we are busy judging them.
What many people tend to see is the sin that these victims commit, but since they can't see the demons controlling them they tend to judge the sin and reject the person. Nevertheless, God still loves us all. It makes him sad when people live in bondage and he longs to give us the answers we need.
People fear the rejection of talking openly about this matter, and fear of judgment keeps people ensnared. The truth of the matter is that the enemy will use that to undermine a person's success and lay a trap for them so that they end up being judged anyway. Pride and ego will make a person fall because they will keep a person from asking for help. It's better to face your fears from someone that is equipped to help you than allow Satan to drag you through greater shame and failure later on.
The enemy will wait until you are on the brink of a tremendous breakthrough and then he will strike. You don't want that. I am honest here because I cannot help and deliver anyone if I am not willing to share from my heart. It can feel very unfair indeed to have to take responsibility for things that were done to us because of someone else opening a door to the enemy, or things inflicted upon us.
I know the bitterness that can result, but I must tell you that bitterness opens a big door to much more trouble than you want. Regardless of how the enemy gained access to your life, I urge you to do what you need to earn your freedom. You must take responsibility for all the junk that is in your life!
Let me remind you again that many people have tried all kinds of steps, processes, methods and had even gone through numerous deliverance prayer sessions with the so-called powerful men of God, and others have met with powerful sorceries, witches, wizards, magicians, and spiritualists for total deliverance from these demonic spirits but to no avail.
If you are one of such people, thank God you are here. There is a secret I would like to reveal to you. All deliverance processes, steps, and methods cannot work for you and I repeat myself, cannot work for you without the true powerful name of God, the creator of heaven and earth and that of his son. Satan and all demons fear only two powerful names. Surprisingly, such two powerful names may not be the ones you know.
My Deliverance
After fasting for 40days, fortunately for me, I had a vision, in which the Holy Spirit revealed to me the spiritual process for which I have to go through to get rid of the spirit spouse in my life to achieve my deliverance and freedom. I did exactly what the Holy Spirit taught me and I became free from the attacks, manipulations, and bondage of the spirit spouse.
As a Pastor, I have delivered a lot of people from spiritual marriage and demonic forces with the spiritual process revealed to me by the Holy Spirit. through these two powerful names.
There have been so many testimonies in my assembly from victims that have become free from these spirits which have held them for so many years.
When you get in touch with me, and I take you through the same spiritual process that set me free, the demonic spirits inhabited in you will yield to the power of God that is above them. You will get your deliverance and life back from the menace of sex demons. Your freedom is guaranteed.
If you really want to get total deliverance from these demonic spirits, join my deliverance program called The Experience Deliverance Program. It's a 4-week deliverance program to achieve freedom. Click here for more info on the program.
Please, feel free to contact me if you have any questions.
Contact Info
Phone Number: 00233 545 004 563
WhatsApp Line: 00233 545 004 563
Follow Me On Facebook
Let me know how I can be of help to you!