Are you suffering from a spirit wife or husband?
Are you oppressed by an incubus, succubus or sexual marine spirit?
Have you tried all means to get rid of these sex demons of the night but have failed several times?
Do you sometimes feel it is no more in your life and then suddenly it appears again?

Do you want to end your life because you are a victim of a spirit spouse?
Are you struggling in silence due to the shame of letting others know that you are a victim of a sex demon?
Are you afraid of rejection and judgment associated with issues of a sexual nature?
Are you disoriented about your direction from getting your life back from the attacks of a spirit spouse?
Are decisions tough to make and steps hard to take?
If your answer is yes, then order a copy of the ebook now! And let God use the pages of this ebook to place your feet firmly on the right path.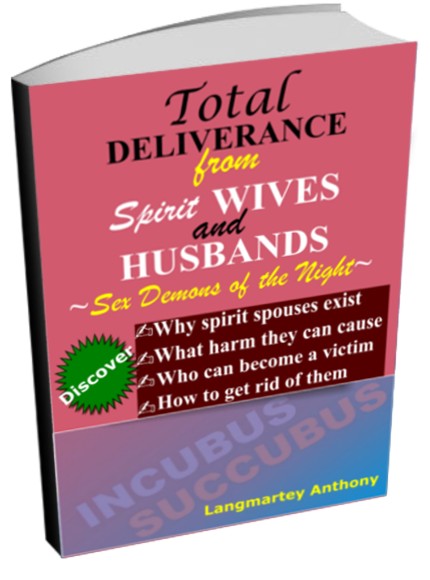 The Secret of Happiness is freedom likewise the Secret of Freedom is courage

You may be experiencing the following:
Constant sex in your dreams (wet dreams).

Breastfeeding in a dream and even seeing breast secreting milk physically.

Miscarriages after sex in a dream.

Loss of job and valuables before or just after the marriage ceremony.

Inability to conceive.

Your loving human spouse has suddenly become your enemy.

Unjustified arguments and misunderstandings between you and whomever you are dating or married to.

In Your Dreams Do You See Yourself:
Being wedded?

Having constant sex?

Being pregnant?

Having prolonged pregnancy?

Breastfeeding a child?

Nursing a child?

Backing a baby?
In this ebook you will find out:

The entry points or gateways of Spirit Wives and Husbands and the effects they can have on you and your marriage.
The secret keys or steps to get rid of spirit wives and husbands or spiritual marriage.

The True powerful and sacred name of the Creator and that of His Son.

The pronouncing alone of this true powerful name of the Creator and His Son could set you free. Note that these names are not the common names you know.

A proven written down prayers containing the true powerful name of God and His Son to get total deliverance from sex demons of the night.

Powerful Psalms to pray with in order to be set free from the menace, attacks, and manipulations of sex demons of the night. Experience the power of Angelic Prayers (Psalms).
You'll discover:
Why spirit spouses exist.

What harm they can cause.

Who can become a victim.

How to get rid of them.
Are you struggling in silence due to the shame of letting others know that you are a victim of a sex demon?
Are you afraid of rejection and judgment associated with issues of a sexual nature?
You would no more be locked behind walls of shame when you order this ebook.

Thank God you are on this website. It is not by accident or mishap that you are reading this. It is because your Creator loves you and wants you to get total freedom.
God cares about your suffering and has plans to set you free.
Getting your hands on this ebook is the will of God and it is part of God's plan for your deliverance.
Make Sure You Are Not Missing The Point of Your Life.

It's time to Get Your Total Deliverance!
God Wants You To Be Free!!!
You Have a Choice.
A Choice of

Freedom

from Demonic Spirits.
You Need this Ebook!
Make That Choice Now!!!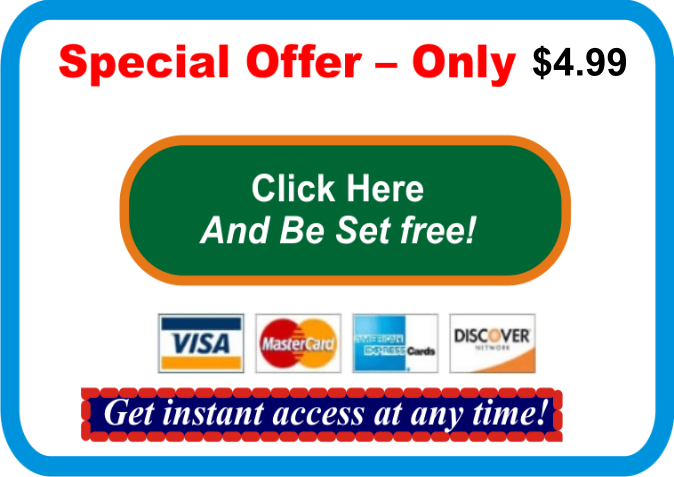 Stop Being a Slave to a Sex Demon

Below is the ebook excerpt, enjoy it.
Introduction
When it comes to the issue of dealing with spiritual marriage or spirit wives and husbands, you need someone who has had years of first-hand experience with this problem. I once suffered from a spirit wife for twenty (20) years, so I know how frustrating it can be. As a man of God and from shared experiences of various people (young and old) I have interacted with and delivered through deliverance prayer sessions, it is clear that the issue of spirit husband and spirit wife is one that is killing a lot of married couples and singles silently. The terrible thing is they don't even know what is consuming them up. That is why I am so glad to share this information and my experience with you. It has already helped a lot of people. I know that it will help you too.
This is a typical problem I have never seen well treated from any platform or pulpit. Many people struggle in silence due to the shame of the subject matter and the fear of rejection associated with issues of a sexual nature. Pornography, personal gratification, sexual fantasy and ungodly habits connected to sex are embarrassed to discuss, and the enemy knows it. In fact, studies show that 7 out of 10 people struggle with this issue, yet no one seems to be talking about it. Can you imagine the number of unclean spirits attached to people's lives that keep them locked behind walls of shame, fear of judgment and rejection? How can people get delivered if no one treats the subject matter? As an individual, you may suspect that you or your spouse have been having issues with spirit entities disturbing you or sexually harassing you in your dream and you wonder why and how to stop such encounters. I want to set you free today and let you know that you are not alone and you're not misfortune.
Dealing with the Unknown
As one who had years of first-hand experience with these sex demons of the night, I can tell you without a shadow of a doubt, it's not a myth, folklore, or made up stories, incubus and succubus spirits are real.
Before getting to know how to be delivered from or getting rid of succubus and incubus spirits, you first have to know more about these spirits and must understand why they are here in the first place. This is because knowledge is power. When you know what you are up against, it becomes easier to fight back and of course, win the battle. The Bible says "Therefore my people are gone into captivity because they have no knowledge: and their honourable men are famished, and their multitude dried up with thirst" (Isaiah 5:13, see also Hosea 4:6).
It is important to remember that one of the first keys to deliverance from any attack is by understanding your enemy. I prayed and studied for an understanding of my enemy that is when I finally was able to receive the revelation of what I must do in order to get total deliverance.
The Supernatural world is as real as the physical. What takes place in the spiritual realm affects us physically in our daily lives. From my research and statistical findings, I have gathered that 7 out of 10 men and women who admit to being born again are involved, consciously or unconsciously, in spiritual marriage. At times, the people involved in such spiritual sexual encounters and relationships or marriages are not even aware they have a spirit spouse who is typically so envious and spoils things for the actual human spouse. This kind of problem has no boundaries as it affects even legally married human couples where the human wife experiences several miscarriages and sometimes actual infertility alongside financial problems and business failures on the part of the human husband.
_____________________________________________________________________________
For the Full Handling of this Topic Grab a Copy of this Ebook Now!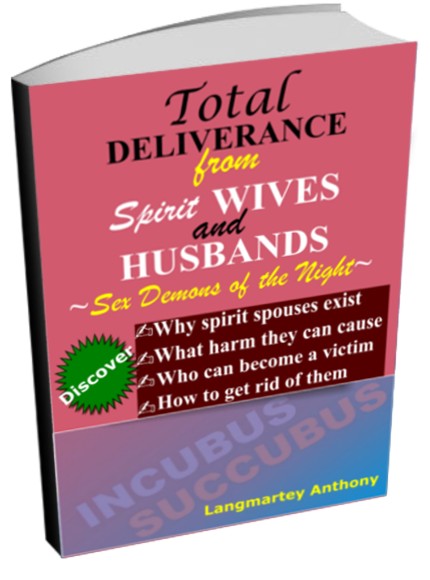 It explains what incubus and succubus spirits are.

It also discusses the characteristics and signs of sex demons of the night.

It unveils the entry points of spirit wives and husbands.

It gives details of the effects these demonic spirits could have on their victims.

Finally, it gives you the keys to get rid of them totally and forever.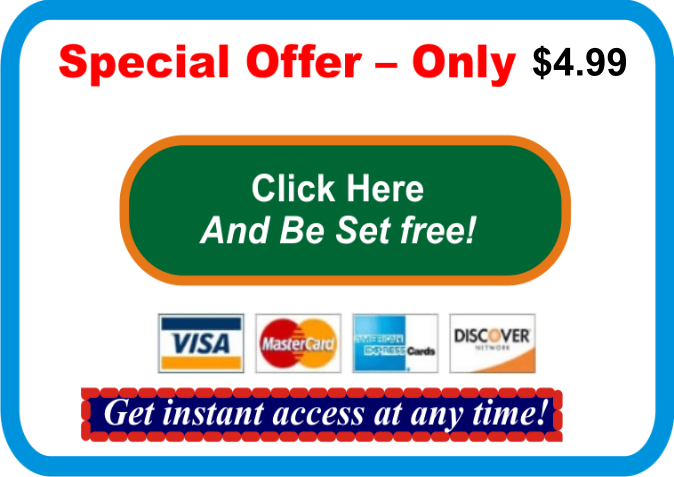 You may also click on the image of your favorite retailer to buy the ebook.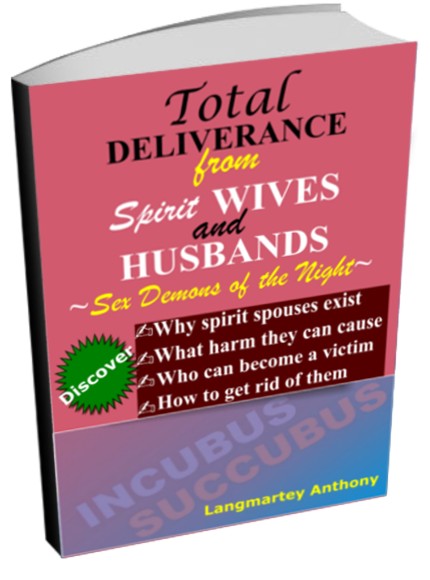 Copyright © 2020 Anthony Langmartey. All rights reserved.